Tara Prescott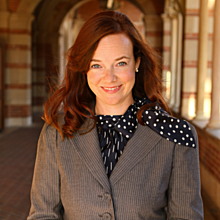 Professional Bio
Tara Prescott is a Lecturer in Writing Programs and Faculty in Residence at the University of California, Los Angeles. She is the author of Poetic Salvage: Reading Mina Loy (Bucknell University Press), editor of Neil Gaiman in the 21st Century (McFarland), and co-editor of Feminism in the Worlds of Neil Gaiman (McFarland) and Gender and the Superhero Narrative (University Press of Mississippi). Some of her recent contributions are featured in The Work and Art of Lynda Barry (University Press of Mississippi), Firefly Revisited (Rowman & Littlefield), Critical Insights: James Joyce (Salem Press), European Joyce Studies, and Women's Studies: An Interdisciplinary Journal. Her TEDxUCLA talk, "Hike Your Own Hike," is available on YouTube.
Area of Expertise
Neil Gaiman is a contemporary British author living and writing in the United States. He is most famous for his fantasy fiction that delves into mythology, dreams, and Gothic settings, but his oeuvre spans everything from 
children's picture books about a sneezing panda to New York Times essays about the Syrian refugee crisis. I have edited two collections of essays on Gaiman's work, Neil Gaiman in the Twenty-First Century and Feminism in the Worlds of Neil Gaiman. I also teach an upper division writing course, "The Art of Neil Gaiman," at UCLA.
Institutional Affiliation