Susana Ramirez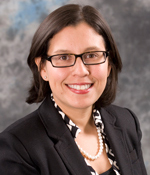 Institutional Affiliation
Assistant Professor of Public Health, UC Merced
Professional Bio
A. Susana Ramírez is a social scientist whose research at the intersection of communication science, public health, and Latino health focuses on communication in the service of social justice and health equity.
Dr. Ramírez employs mixed methods to understand multiple levels of communication influence on health behaviors and to reduce health disparities among Latinos across the acculturation spectrum. Published research has examined the development and effectiveness of culturally tailored messages for bicultural Latina populations, knowledge and beliefs about cancer risk factors, and health information seeking. Active research examines the feasibility of using mobile phones for behavior change communications, social marketing strategies to increase food access, examining the rural health information environment, reducing barriers to health care decision-making, and multilevel communication strategies to create a culture of health.
Currently Dr. Ramírez is Assistant Professor of Public Health Communication at the University of California in Merced. Previously she was a Cancer Prevention Fellow in the National Cancer Institute's Division of Cancer Control and Population Sciences. Dr. Ramírez earned a PhD in Communication from the Annenberg School for Communication at the University of Pennsylvania, a Master of Public Health from Harvard University, and a Bachelor of Arts in Communication from Santa Clara University.
Area of Expertise
I am an expert in how culture and communication influence health behaviors and outcomes; my goal is to improve the reach and effectiveness of communication strategies targeted to Latino populations. In my past and current research, I have sought to understand how individuals make decisions about cancer behaviors by obtaining and making sense of public information, including advertisements, news, entertainment media, and interpersonal sources. I am particularly interested in how Latinos differ from other populations in terms of what characteristics they ascribe to sources of information, and how these characteristics affect the influence of health information on health behaviors and outcomes. I am now examining the design features affect the persuasiveness of messages. This research is important because it can help us understand how to reach Latinos across the acculturation spectrum with purposeful information that improves health.